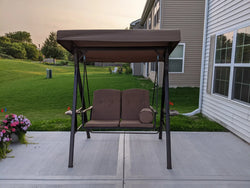 This maintenance guide of swing describes the different types of swings, and the corresponding cleaning and repair recommendations, as well as damage prevention measures. If you already have an outdoor swing, or are looking to add a porch swing to your home, this article can help with your subsequent needs!
Do you want to have a great outdoor seating in your backyard but are confused between canopy swings and other options? If yes, we have got you cove...
One o the ways that can easily elevate the quality of your outdoor space is the use of an outdoor swing or Patio swing. They can easily bring pleas...