Best Sellers in Umbrellas
Best Sellers in Outdoor Patio Dining Set
How To Determine The True Cost Of The Patio Dining Sets? Patio dining sets can be a perfect addition to your home furniture. There are many types o...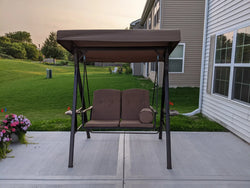 This maintenance guide of swing describes the different types of swings, and the corresponding cleaning and repair recommendations, as well as damage prevention measures. If you already have an outdoor swing, or are looking to add a porch swing to your home, this article can help with your subsequent needs!
Customer Service Awesome
/
Stacey Storm
Our first umbrella arrived with the post end completely damaged and unusable. I sent an email and received a response within 24 hours that a new umbrella would be mailed out. Our new umbrella arrived within 7 days. We purchased the 10X10 turquoise color umbrella. The umbrella is sturdy with solid construction and the fabric seems to be of good quality. We are very happy with this product.
Our Yard is so luxurious now!!!
/
SJA
I never review things but if I could write a thousand stars for this umbrella, I would! Gorgeous, sturdy, so adjustable, easy to assemble. I'm a 43 year old 5'7" woman and I assembled the entire thing myself. Do yourself a favor and order the base with wheels....it's SO handy, locks well, and unlocks so easily to move! Search: PURPLE LEAF Offset Patio Umbrella Base with Wheels, Sand/Water Filled Square, 35.4" X 35.4" X 7.9"
We just installed the 13 foot version of this umbrella, and we couldn't be happier! It was easy to assemble and easy to operate. We used the in-ground anchor with seven 80 lb bags of Quik-Crete and it is very solid and stable. The opening and closing operations are smooth and easy. We installed it over a very large fire pit, and if we angle it up sharply the heat of the fire pit does not affect it at all, because the fabric is about 12 feet above the fire pit and allows the heat to escape. I would not recommend lowering it over the flames