Everything has a soul, and the soul of your dining room or dining area is its dining set. People often show their care while choosing furniture for outdoor and living rooms but neglect the dining room furniture. However, this should not be overlooked because this place has its own charm even because everyone gathers for a meal when they have such a busy schedule.
  So, your meeting place should be attractive and it is not possible without a great dining set. Buying a dining set is just like buying other furniture for your home. There are many things that you should consider when choosing the best one for you.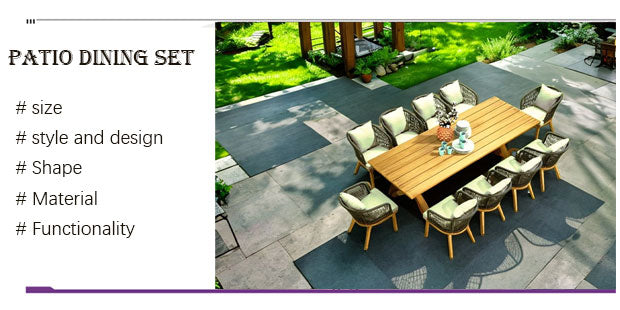 Here are some features you should consider when buying your dining room furniture: 
Size
  The most important thing to consider when buying dining area furniture is its size. This will include the number of seats and the size of the seats and table. The size of the dining table is determined by the size of your family. However, if you have frequent get-togethers or parties at your home, you need to consider the number of guests in order to have the perfect dining furniture for everyone.
  The size of the dining table also depends on where you eat. If your dining area is limited, you should keep the number of seats to a minimum. However, if you have a large dining room, you can have as many seats as you want. Also, if you like outdoor dining, you can choose your own outdoor dining set according to requirements.
Style and Design
  You know that your home is a reflection of your lifestyle and personal taste. So, you should keep this in your mind and buy items that match the theme for your home. The same should be done when buying a dining set. Therefore, you need to consider a dining set that fits well with the rest of your home. You can choose your dining set accordingly whether your home has luxury, traditional, or contemporary decor.
  Dining sets come in a variety of styles and designs. But this doesn't mean that you can buy whatever you want. If your dining furniture is not matching with the rest of your furniture you might not enjoy the visual comfort associated with it. Therefore, you should choose the set that goes well with your furniture as well as the décor of your dining area.
Shape
  Dining tables in dining sets come in various shapes including round, rectangular and square shapes. You can choose the one that is according to your choice and fits your dining room perfectly. If your dining area is small then you can choose round tables. Moreover, they are great if you have a dine-in kitchen.
  However, if you have a large dining place, go for rectangular tables to have a classic and elegant look. For outdoor dining in small families you can go with square tables with a set of four chairs. While choosing the dining set shape also consider the shape and size of chairs. Your chairs should be comfy enough to let the guests and family members enjoy their food with comfort.
Material
Well! Wood is the most preferred material for dining sets because it has a natural warmth and timeless elegance. Tables and chairs made of hardwoods like walnut and oak are popular choices because of their durability and resistance against everyday use. Wooden dining sets are beautifully designed and give a classical and sophisticated vibes that make them perfect for having a rustic or traditional dining experience. Moreover, wooden tables are always in trend due to their beautiful aura and classy look.
  Many other contemporary options like metal dining sets are available. Aluminium, stainless-steel, chrome and iron are highly in trend to have a sleek and modern area. They have clean lines, robust constructions and clean lines for being suitable for both outdoor and indoor use. Metal tables often have glass tops to have a visually appealing look. However, if you have kids in your home then consider buying metal tables because glass can be broken and your kids might get hurt.
  Another option for dining set material is plastic and they are for casual and outdoor settings. The plastic dining sets are lightweight, easy to clean and resistant to moisture so they are great for informal dining spaces and outdoor entertainment areas. Though buying plastic furniture for your dining area might seem an absurd idea, modern advancement has led to production of high quality furniture that looks similar to other materials. They also feature a wide range of styles and colours that go well with the look of your furniture.
Functionality
  Your dining set is not only functional for eating meals, it also becomes a homework area for your children especially if you are a housewife. Moreover, it also plays an important role in being able to work from home, gaming zone and leisure place. So, you should buy the one that should have adjustable height or a pull out end that could serve as a double desk.
  You might feel that a pull out dining table is not a great idea for your dining room but having it gives a more casual and comfortable feel than any random dining table. Because in the end what matters is how your table serves you instead of how it looks.
  The dining set is the focal point of the dining room so you should make sure that it is adaptable and versatile according to the atmosphere of your house. To add more to your dining area you can go for adding rugs and cushions of different colours keeping your theme in mind.
Conclusion
  Buying a dining set for your home is not as difficult as it looks. You just have to have a good knowledge of the things that matter. To buy beautiful outdoor dining sets you can visit Purple Leaf today. Enjoy happy dining!